Sergiev-Posad town.
The ancient town of Sergiev Posad with its St Sergius Trinity Monastery (founded in 1340) is the centre of the Russian Orthodox Church and Russian Arts and Crafts industry.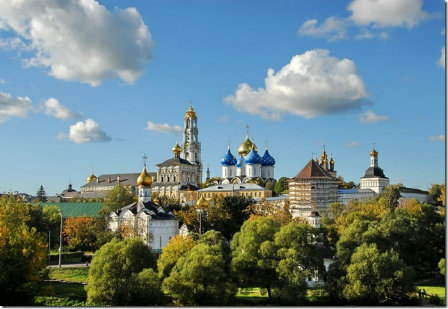 After the revolution the name of the town was changed to Zagorsk and only in 1992 the original name was re-instated. The result of this name change is that Russian dolls made here are usually known as Zagorsk style dolls.
The town of Sergiev Posad is a short journey from Abramsova.
By the time Malutin and Zvezdochkin were created their first doll , Sergiev Posad was already well-established as a toy making centre.
 The huge market place in front of the monastery has been a trading place for centuries.
Initially dolls were produced for fun. An interesting fact, first Sergiev-Posad dolls were just a caricature of Ukranian leaders or Hetmen. Dolls were also made depicting characters from Russian folk lore as well as from books.
Eventually the factory began making one particular design which we now recognise as the typical Sergiev-Posad (Zagorsk) style.
After the revolution 1917 and subsequent communist period, the free expression of the pre-Revolutionary artists was considerably reduced . Lots of factories have been closed or destroyed, many crafts people were compelled to stop any art activities.
In addition, after the changes brought by the collapse of the communist system in Russia in 1992, Sergiev-Posad factory quickly ran into trouble.
By 1994 the satellite factories had closed and by 1997 the main factory outside the gates of the monastery was also effectively closed for the production of Russian dolls.
It became far more lucrative for artists to work on their own and to supply the tourist trade in Moscow which is only a short journey away by train.
Probably over a half of all Russian dolls sold today are made in this area and have a high standard of quality and recognisable Sergiev Posad style.